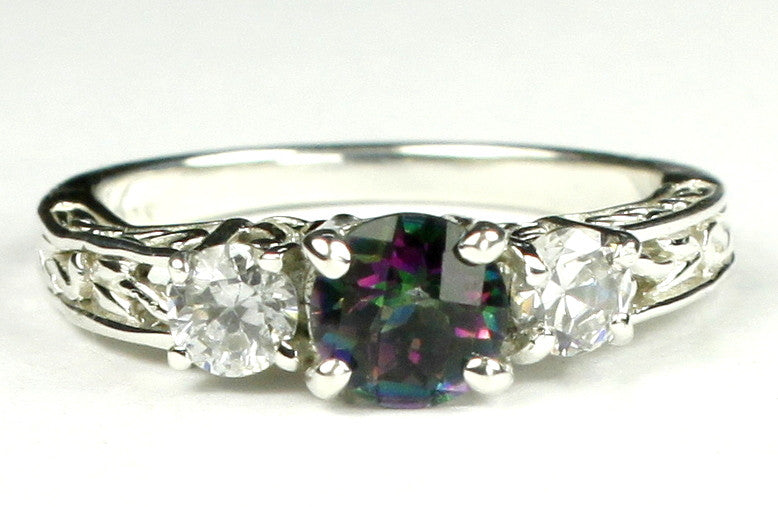 R254, 1ct Mystic Fire Topaz set in a Gold Ring w/two 4mm CZ accents
| | |
| --- | --- |
|  Stone Type | Mystic Fire Topaz |
| Approximate Stone Size | 9x7mm |
| Approximate Stone Weight | 2.3 carats |
| Jewelry Metal | Solid 10K or 14K Gold |
| Ring Size | Size selectable at checkout |
| Our Warranty | One Full year on workmanship |
| Our Guarantee | Totally unconditional 30 day guarantee |
This bright Green/Purple Topaz makes for a delightful ring. It catches light like crazy -- I mean, bright sunlight makes it go berserk, and even in a low-lit restaurant, it can't hide. It insists on being seen, and does SUCH a marvelous job of it.

Every now and then, you run across some stones that simply takes your breath away. Fantastic color, incredible cut, perfect clarity -- all combining to create a totally awesome stone.

And that's pretty hard to beat. Oh yeah -- it's pretty, too, especially with that flowing filigree running down the sides of the ring.

This ring is quite elegant, with two 4mm CZ's mounted on either side of the center stone. Smooth flowing lines tell the story well. This would actually make a nice engagement ring.

Decent color, decent price.

In plain English, this is simply a very pretty stone, and it's well mounted in this gold ring. Gives me goosebumps just to look at it.