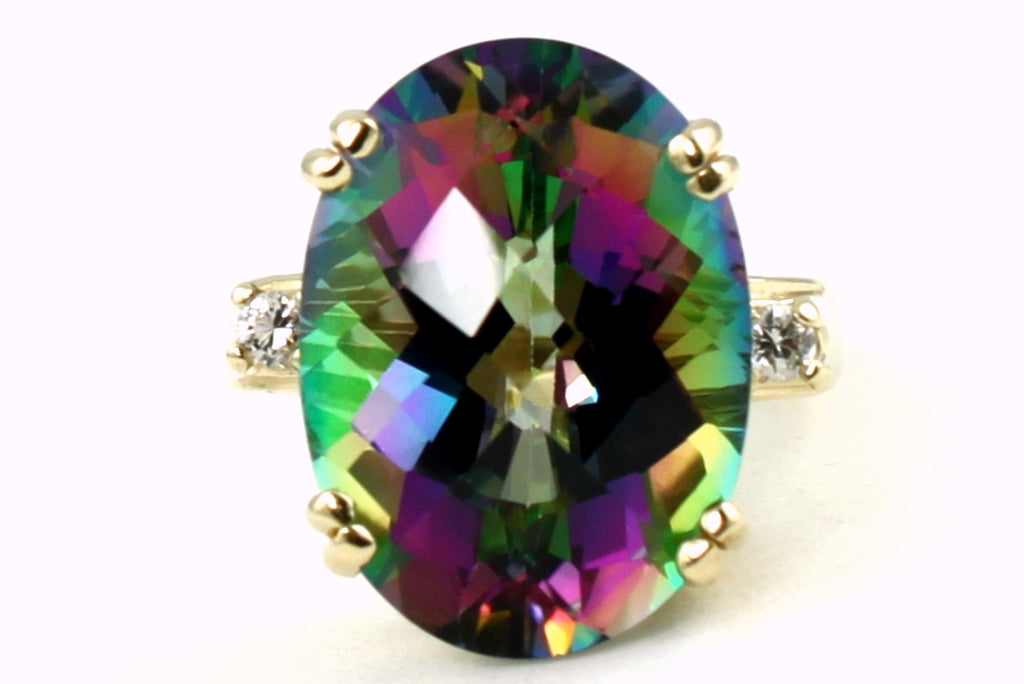 R269, 15ct Mystic Fire Topaz set in a Gold Ring w/two CZ accents
| | |
| --- | --- |
|  Stone Type | Mystic Fire Topaz |
| Approximate Stone Size | 18x13mm |
| Approximate Stone Weight | 15 carats |
| Jewelry Metal | Solid 10K or 14K Gold |
| Ring Size | Size selectable at checkout |
| Our Warranty | One Full year on workmanship |
| Our Guarantee | Totally unconditional 30 day guarantee |
A cool stone in a classic mounting.  This gem's for you!
This setting has a strong structure and is well built. Look at the thickness of the gold in the prongs and the ring shank. We don't mess around with wimpy rings.
This ring is a fairly conservative, classic style. It has two 3pt CZ sidestones as accents, and 4 sets of double prongs. It holds this incredible stone well, without competing with it. A good strong mounting showing off a seriously cool stone.
The cut on this stone is the checkerboard cut, which works better with the Mystic Topazes than any other cut. This stone picks up and throws light even when there's virtually no light to be thrown. Cherry and I were at a dimly lit restaurant a while back (our once a week splurge...), and you should have seen this thing sparkle -- it was a sight to see!
A Mystic Fire Topaz is really an incredible stone. Like all of the Mystic Fire topazes, it starts out in life as a natural, mined stone, but is enhanced with a treatment of Titanium, which I explain at length elsewhere. What's cool about this stone is the range of iridescence.  You've got the regular green and purple, but you've also got some yellow splitting off from the green, and red splitting off from the purple.