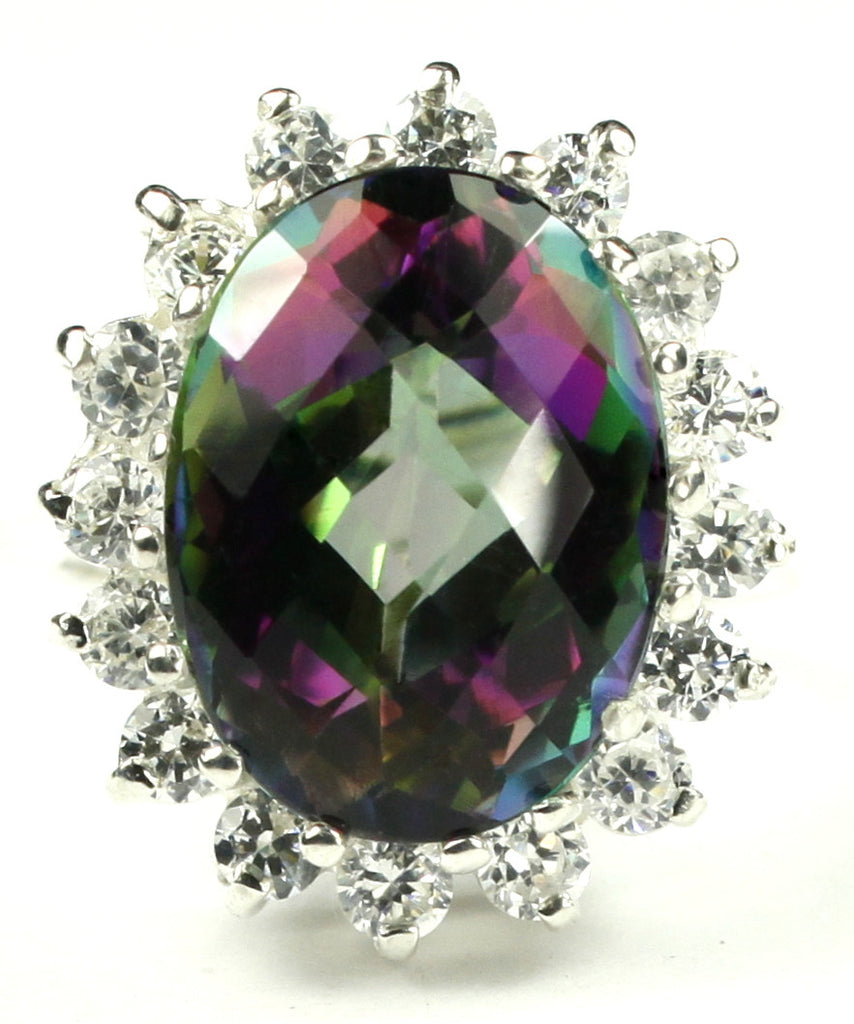 SR310, 12ct Mystic Fire Topaz set in a large Sterling SIlver Ring w/ 16 CZ Accents
| | |
| --- | --- |
|  Stone Type | Mystic Fire Topaz |
| Approximate Stone Size | 16x12mm |
| Approximate Stone Weight | 12 carats |
| Jewelry Metal | Solid Sterling Silver |
| Ring Size | Size selectable at checkout |
| Our Warranty | One Full year on workmanship |
| Our Guarantee | Totally unconditional 30 day guarantee |
OK. Remember the Royal Wedding, and all the hullabaloo about the Engagement Ring that William gave Kate, that used to belong to his Mom, Diana? Well, when all that was going on, I noticed that had a ring that was almost an exact duplicate, and quite frankly, I ended up selling these by the double handful every single day for several months. I'm really glad things have settled down and are working out for them. I was going crazy making these rings, setting all those accent stones, etc.

Anyway, I've still got the mold, and we still make this ring from scratch. It's just as pretty now as it was then, maybe even prettier if you factor out the history (or the histrionics, maybe???)

And so, we thought we'd set this ring ring with something other than Blue Sapphire, and so here it is with a Mystic Fire Topaz. Oh, Wow! This one works!

This is not a ring for the feint of heart. Frankly, you're going to have to have some attitude to pull this off. This is a large ring, with a gazillion tons of sparkle and flash. NOT an everyday ring, but when the occasion calls for it, then THIS IS THE RING!
You'll be wearing ring a LOT!
 ('cept when your daughter or sister borrows it...)  Just sayin'...